Robert Irwin Tears Up While Talking About The Injured Animals From The Australia Bushfires
Australia is currently dealing with one of the worst bushfires in decades and the Irwin family has been doing everything they can to help. Half a billion animals have died as a result of these fires and the Irwins have been taking injured animals into the Australia Zoo. Thankfully, the Australia Zoo is safe, meaning that they're able to provide these animals proper care and shelter.
Recently, Terri and Robert Irwin appeared on live TV to discuss the Australia bushfires. Robert Irwin couldn't hold back his emotions while addressing the awful situation. The Irwins have treated over 90,000 animals at the zoo, but there are some that have not survived or are dealing with massive injuries.
Terri and Robert Irwin talk about the Australia bushfires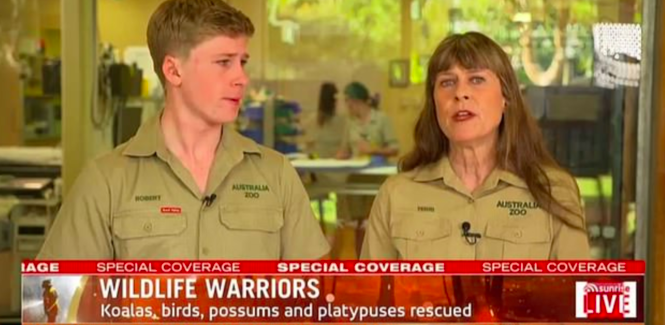 "Their instinct is to go up," Terri explains when talking about the koalas' chances of survival. "Safety is in the top of the tree. But in the hot fire, the eucalyptus trees have so much oil in their leaves that they ignite and actually explode."
She continues, "Being able to treat and help koalas is few and far between because they're basically incinerated, which is absolutely heartbreaking." As Terri was speaking, Robert was understandably getting choked up listening to this awful reality facing innocent wildlife.
He can barely keep it together
Upon seeing the interview, many people have expressed how inspiring the Irwin family is to others. "I love The Irwin family. Steve would be so so proud of them," someone writes. Another person says, "@RobertIrwin There truly needs to be more people like you on this planet. Your spirit just inspires so many."